HT
– effective against mould and bacteria.
Ceramic tiles are already recommended even without this special treatment – after all, their smooth surface structure prevents permanent infiltration by house dust mites, for example, which can trigger allergic reactions among people. According to tests by independent institutes, bacteria and mould are destroyed and new growth effectively impeded simply through contact with the HT ceramic surface.

Active against microorganisms
The activated oxygen breaks down microorganisms such as bacteria and germs which can cause illness. At the same time, new growth is effectively impeded, whereby HT is entirely non-toxic and free of irritants. This innovative technology therefore sets entirely new standards wherever cleanliness and hygiene are paramount inside houses and apartments.

Always effective
Thanks to innovative HT technology, all of this works entirely without additional chemicals or any health risks for people. And even more importantly: not just for a certain period of time but permanently. After all, the natural catalyst is burned permanently into the tile glaze. Accordingly, the antibacterial effect never evaporates but is rather retained over the entire service life of the ceramic. Hygienic cleanliness in all areas of application: HT-coated ceramic tiles make a valuable contribution towards naturally hygienic living areas. Microorganisms such as mould, bacteria and fungi in indoor areas and algae and moss in outdoor areas, e.g. patio tiles, are broken down and regrowth impeded.

99% fewer bacteria
On contact with the HT ceramic surface, up to 99% of bacteria are destroyed (under test conditions by Dr. Ralph Derra, ISEGA Forschungs- und Untersuchungs-Gesellschaft mbH, Aschaffenburg).
The film demonstrates the antibacterial effect:
Series: Jasba-NATURAL GLAMOUR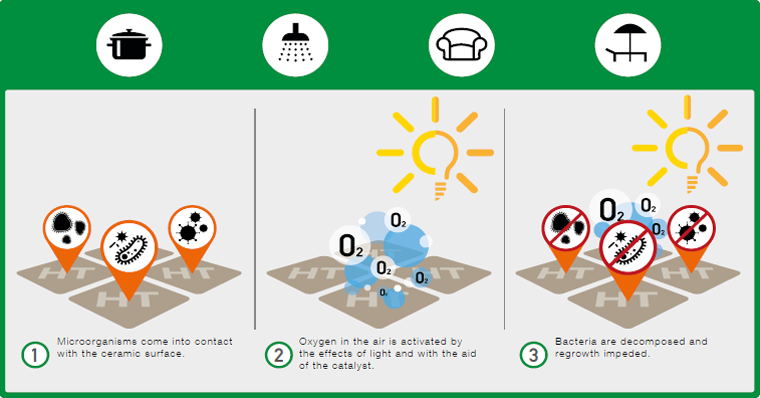 Renowned test institutes confirm these effects.