HT
– healthy feel-good environment. Healthier living.
Unpleasant odours or even harmful substances such as formaldehyde in homes? Emissions from building materials can be the source of unhealthy indoor air. Paint, sealing materials and furniture as well as ovens and gas stoves emit pollutants such as formaldehyde or nitric oxides. HT is an appropriate tool to combat this. After all, the activated oxygen arising from the photocatalytical process on the surface of the HT-coated tiles also decomposes these volatile components in room air. The result: clean air! This is not only pleasant in the bathroom and kitchen but also ensures a healthy environment throughout the entire house.

Active air cleaning
The photocatalytical process acts like an air freshener here: when pollutant molecules come into contact with the tile surface, titanium dioxide as a light-activated catalyst immediately transforms them into mineral salts which are entirely harmless and which are then simply washed away the next time the tiles are cleaned. The result is significantly improved indoor air and a permanently pleasant and fresh living environment. At home – yet always enjoying fresh air.

The air is clear
Even uncoated tiles are distinguished as particularly pleasant floor and wall coverings as their mineral nature means that they dissipate practically no emissions into their surroundings. But here too, HT demonstrates what else is possible! As HT-coated tiles break down odours and even clean the surrounding indoor air of pollutants such as nitric oxides or formaldehyde right through to tobacco smoke.
The film demonstrates the air-purifying effect: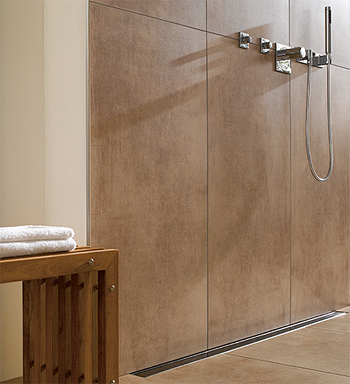 Series: Bosco, AGROB BUCHTAL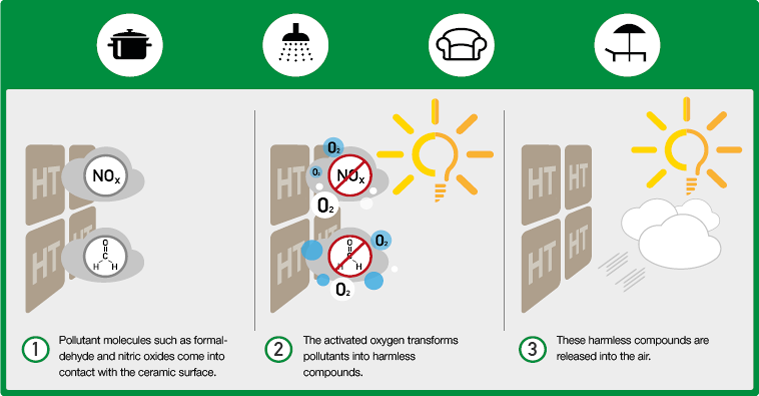 Renowned test institutes confirm these effects.