HT
– breathable air made clean.
Activated by light
HT technology works without any further chemical treatment – and therefore without any detriments to human health. When exposed to light, the titanium dioxide in the surface glaze triggers a simple physical reaction referred to as photocatalysis. This process releases activated oxygen on the surface which can significantly decompose industrial and car fumes such as NOX* from ambient air.

Naturally effective
This unique characteristic makes HT-coated façades an ideal choice for planners and architects when it comes to designing new buildings or modernising the façades of existing ones – particularly in urban environments. An innovative decision of long-term significance for the environment!

Active air cleaning
The photocatalytical process acts like an air freshener here: when pollutant molecules come into contact with the façade surface, titanium dioxide as a light-activated catalyst immediately transforms them into mineral salts which are entirely harmless and which are then simply washed away the next time the tiles are cleaned. This significantly improves the air quality in the vicinity of the building.

The film demonstrates the air-purifying effect:
Green lungs now also available in colour.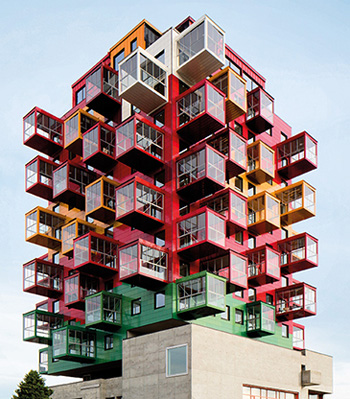 Ting 1, Örnsköldsvik, Sweden
Architect: Wingårdh Arkitektkontor AB, Göteborg/Stockholm/Malmö
Products: KeraTwin® (K20), special colours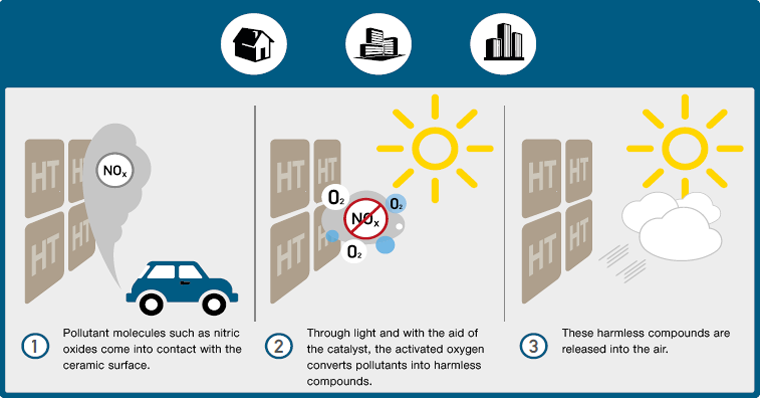 Renowned test institutes confirm these effects.