Zak World of Facades, South East Asia edition was held at the Marina Bay Sands Singapore on the 16th of November 2017 with more than 300 people in attendance.
The first segment of the conference focused on digitalization, cloud technology, robotics, drones and latest technological advancements as an enhancement to the façade industry .
Fire safety aspects of façades focusing on cladding and fire-stop solutions was also presented in the wake of ACP( Aluminum Composite Panels) fires in London and Singapore. Structural glass applications and high-performance coatings were also few of the key topics being discussed.
The summit agenda also put forth topics highlighting the latest opportunities, challenges, and limitations in the field of façade design and engineering while sharing a pragmatic approach.
During the conference, Gerhard Plank (Technical Advisor), from Agrob Buchtal, an expert in Mechanical Fixing systems with more than 40 years of experience in ceramic facades spoke about the sustainable features of Agrob Buchtal's self washing facades, the flexible and rapid installation systems available leading to increased productivity and how with the new colors and designs allows for endless design possibilities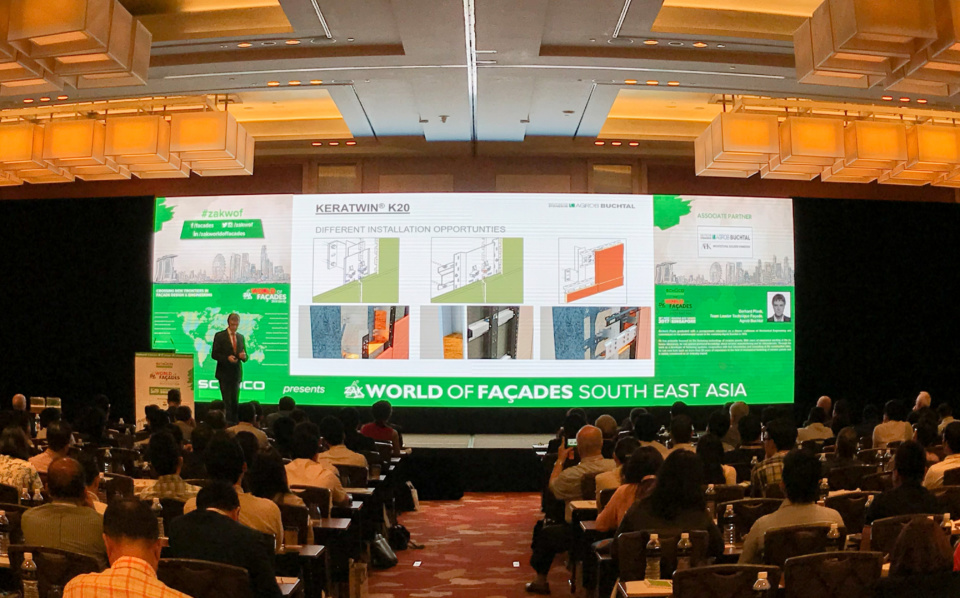 Being one of the Associate Partners, ABK also had the opportunity to showcase our different fixing systems and HT coated ceramic facades that comes in unique surface finishes, colours and sizes.
You may click on the links below to download our various catalogues and brochures that would help you in your project planning.
Downloads: Catalogues & Brochures
We would like to thank all of you who had visited our booth. It was a pleasure meeting you.