HT
– productive feel-good environment. Health in the workplace.
Unpleasant odours from the canteen? Or even pollutants such as formaldehyde or nitric oxides? HT is an appropriate tool to combat this. After all, the activated oxygen arising from the photocatalytical process on the surface of the HT-coated tiles also decomposes these volatile components of room air. The result: clean air! This is not only convenient in sanitary facilities and kitchen areas but also permits optimum working methods throughout the building, thereby representing an additional increase in productivity.

Active air cleaning
The photocatalytical process acts like an air freshener here: when pollutant molecules come into contact with the tile surface, titanium dioxide as a light-activated catalyst immediately transforms them into mineral salts which are entirely harmless and which are then simply washed away the next time the tiles are cleaned. The result is significantly improved indoor air and a permanently pleasant and fresh room environment.

The air is clear
Even uncoated tiles are distinguished as particularly pleasant floor and wall coverings as their mineral nature means that they dissipate practically no emissions into their surroundings. But here too, HT demonstrates what else is possible! As HT-coated tiles even clean the surrounding indoor air of pollutants such as nitric oxides or formaldehydes right through to tobacco smoke.
The film demonstrates the air-purifying effect: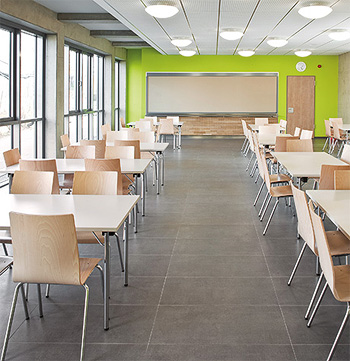 School project 20_20 in the town of Rehau, Germany Architect: Hermann Beyer architectural office, Döhlau, Germany